Liz and Zach's extraordinary industrial-themed wedding really stepped outside the box of tradition. Everything from the venue to the decor to the dress represented them as a couple and as individuals.
Holly and Jackson are a super fun couple from Vail, Colorado. Their wedding was full of whimsy and one of the most unique we have seen—based on the Disney film Up. Not many couples get inspiration for their big day from a Disney movie, right? Check out Holly and Jackson's story, along with an array of gorgeous photos!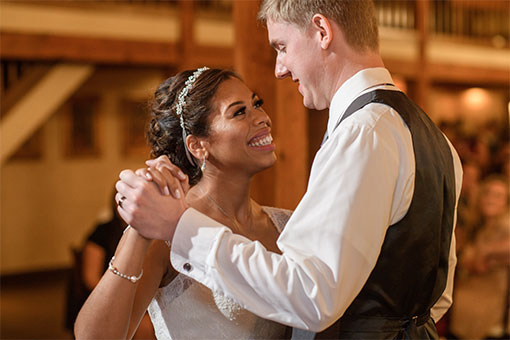 [one_half] [/one_half] [one_half_last] Jasmine & Greg Meet Jasmine, from Lawrence, MA, and Greg, from Naugatuck, CT. This adorable couple was married in October 2016 with a wedding and ceremony that embraced the season of fall in all its beauty, showcasing a lovely garden wedding adorned with spectacular New England fall foliage. We are so pleased […]
This adorable couple is the classic story of high school sweethearts who wanted to spend the rest of their lives together! Their fall wedding in November of 2016 was set in gorgeous Charlotte, VT. Let's take a look at their story, complete with amazing photographs!
[one_half] [/one_half] [one_half_last] Michelle & Alex Meet Michelle and Alex, both of Long Island, NY. Michelle is a certified teacher and Alex owns multiple mixed martial arts schools. This picture-perfect couple was married in September of 2016 in Old Field, NY. Their ceremony and reception oozed simple rustic elegance at its finest. Let's take a look […]
Meet Abbey and Jayme of Scranton, Pennsylvania. Abbey and Jayme had a majestic hilltop wedding that looked like a day straight out of a fairytale! We are excited to share a bit of their story and their fabulous photos with all of you. Abbey's story is rather different from our other featured brides. Here is what she has to say about finding her dream gown without ever actually trying it on!
Allison and Joseph celebrated their marriage and the start of a new year with a stunning New Year's Eve destination wedding. Their three-day celebration was filled with love, family, friends, and all-around sparkle. We're thrilled to share some of the fabulous details and photos from this couple's big event.
[one_half] [/one_half] [one_half] Kari & Matt Kari, from Hudson, MA, and Matt, from Salem, MA, are this month's featured couple. There was something "magical" about Kari & Matt's wedding. Could it have been the way Kari's gorgeous gown seemed to float on air? Or was it that the big day took place in historic and enchanting […]
LAUREN & DONNIE We love to share stories about the couples we meet at VOWS. Local Massachusetts couple Lauren, of Lowell, MA, and Donnie, of Lawrence, MA, are a picture-perfect couple who really showcased their whimsical, carefree personalities on their wedding day in August 2015. Let's check out their journey! Are you looking for the dress of […]
ANNEKE & ERIC We love a good  romantic story and this one hits close to home!  After seven years of experience in the bridal industry, our bridal consultant Anneke found the guy and gown of her dreams! How does a bridal expert choose their wedding gown and plan their big day? Read more about our featured […]